The PURAP U-Float cushion is a specially designed office chair and car seat cushion that provides relief from coccyx (tailbone), sciatica, ischial bursitis and back pain. It has a 'U' shaped cut-out that reduces contact with the tailbone. It uses our proprietary fluid 3D Flotation Technology, which is also used in high end zero gravity chairs. The unique fluid layer completely eliminates high pressure points and dissipates pressure to the sides of the cushion. You will feel like you're floating. It helps you sit comfortably and pain-free wherever you are – in your office, while driving, or while at home.
Regular price
$ 119.99 USD
Regular price
Sale price
$ 119.99 USD
Unit price
per
Sale
Sold out
Who is it for?

People with sitting and back pain from driving or working long hours.
People with pain due to coccyx, sciatica, ischial bursitis, and similar issues.
Return Period

Try risk free for 30-days. No questions asked.
Care Instructions

Waterproof top and anti-skid bottom. (Just wipe with cloth. Do not wash.)
Share
View full details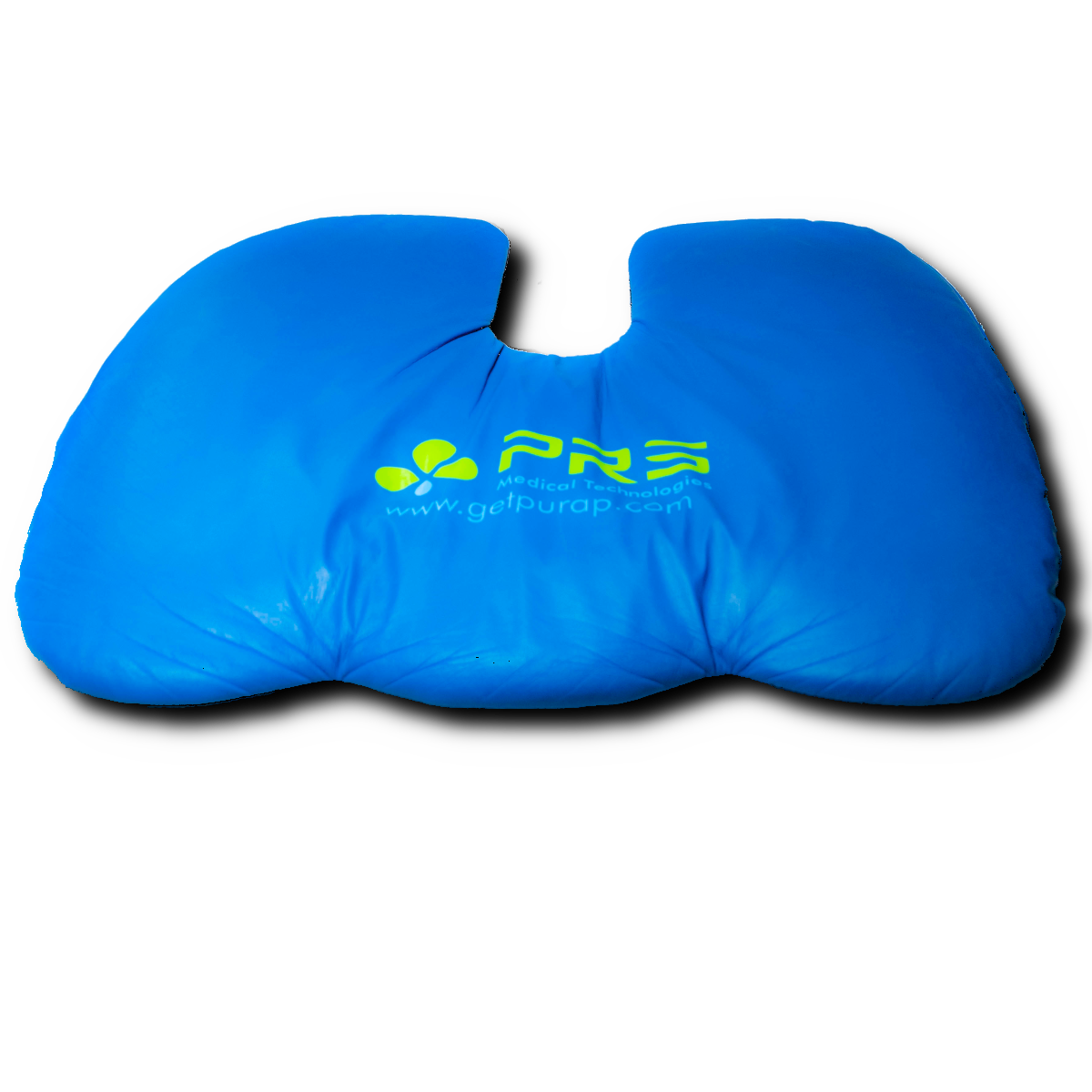 Do you do the left-cheek-right-cheek dance?
You probably experience these symptoms when you sit for a while – a heaviness or numbness in your upper thigh, or a pain just on certain points of your buttocks, or a slight tingling in your legs, or strain on your back. And when you experience those, you do the dance without realizing it – the 'shift your weight to the left cheek, then right cheek' dance.
The root cause behind the dance
All these symptoms usually have the same root cause – your chair or cushion is putting pressure just on a few points of your buttocks, creating high pressure points ("pressure hotspots"). These pressure hotspots are basically taking up most of your body weight – that's painful. It also restricts blood flow, which causes heaviness or numbness in legs, tingling, and even back pain as you adjust to avoid the pain.
The Zero-gravity pressure map
Pressure mapping shows that while other cushions create high pressure points (red and yellow areas), the PURAP U-Float cushion provides a low, more uniform pressure distribution.This provides superior pain relief and comfort.
PURAP works differently than memory foam and gel cushions
No rebound. No high-pressure points

Memory foam and gel cushions 'rebound'. That slow rebound actually creates uneven pressure and high-pressure hotspots. The U-Float cushion eliminates these high-pressure points and provide a low, uniform seating pressure.

No 'lock-in' | Micromovements

Other cushions are rigid and contour as per your body weight. That rigidity locks you in one position which increases pain and discomfort. Our cushion has a fluid layer than enables micromovements that help it easily respond to your position changes.

Thin. Flexible

Those other cushions are thick and rigid, chunky slabs of gel or foam
that are 2 inches, 3 inches, or even 4 inches thick. They may look comfortable but they function exactly the same as your chair or car seat. Our cushion is thin. Because it doesn't need to be thick and raise you in your chair or seat. It needs to dissipate pressure and it's great at doing that.